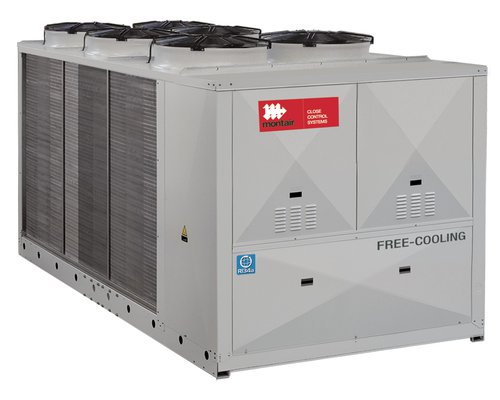 CRE-FCY 2230÷21430
Aircooled liquid Chillers Free-Cooling with axial fans, Screw compressors and shell and tube exchanger


The liquid Chillers of the CRE-FCY 2230÷21430 series, with R134a refrigerant and Free-Cooling technology, are specifically designed to maximize the energy efficiency on cooling of big size data centres.
During the cold months, in FREE-COOLING operating mode, the liquid returning from the system is cooled directly by forced convection of outdoor air through the condensing coil, thus saving energy by not operating the unit's Screw compressors. A 3-Way valve system is controlled by the electronic microprocessor controller, allowing functioning in CHILLER, FREE-COOLING or MIXED (simultaneously CHILLER and FREE-COOLING) modes.
Units are featured as standard with an electronic proportional device that ensures efficient continuous functioning of the unit with outside air temperature down to –20 °C.
CRE-FCJ 2230÷21430
On request, units can be supplied with R513A refrigerant.
Features
Structure with supporting frame, made of galvanised sheet metal with additional protection provided by polyester powder coating.
Screw compressors with built-in oil separator, suction filter, crankcase heater, oil sight glass, thermal protection and stepless capacity steps.
Axial fans directly coupled to an electric motor with external rotor.
Condenser made of copper tubes and aluminium finned coils combined with FREE-COOLING coils.
Shell and tube evaporator with two independent circuits on the refrigerant side and one on the water side, complete with water differential pressure switch.
Cooling circuit shut-off valves on discharge and liquid line.
Electronic expansion valve.
Electronic high and low pressure gauges.
R134a refrigerant. On request R513A refrigerant.
Electrical board includes: main switch with door safety interlock, fuses, thermal protection relays for compressors and thermocontacts for fans.
Condensing Control is included: electronic proportional device that ensures efficient and continuous functioning of the unit with outside air temperature down to –20 °C. It also allows to reduce the sound level especially at night. It consists of a fans speed controller with continuous speed regulation, high and low pressure transducers on cooling circuit and an electrical heater on electrical board.
Microprocessor control and regulation system.