ABOUT US
FoMONTAIR is one of the trademarks of the G.I. HOLDING international Group. For decades it stands for excellence in the precision air conditioning of high technological content environments: cooling units for technical applications such as Data Processing Centres and Sale Servers and industrial processes.
MONTAIR offers a wide range of products specifically designed to meet different types of applications, based on full climatic control, reliability and energy-saving to optimise the investment made in the system.
WE ARE CLOSE TO OUR CUSTOMERS
The G.I. HOLDING headquarters are located in a new facility in Latisana (UD) (Italy). It boasts a 1,500 m² showroom with a display of units manufactured at all the Group's plants and the Cooling Academy: a training centre equipped for technical coaching of consultants, business professionals, engineers and designers, with rooms for unit function simulation.
The G.I. HOLDING Group network includes the G.I. INDUSTRIAL HOLDING company with its 4 manufacturing plants (Latisana, Ronchis and Rivignano Teor in Italy and Biatorbágy in Hungary - GIMEK Zrt), the G.I. INDUSTRIAL ASIA HOLDING Sdn Bhd manufacturing and trading company based in Malaysia and the G.I. MIDDLE EAST Fze trading company based in United Arab Emirates.
The Latisana facility hosts a newly built manufacturing plant dedicated to small and medium liquid Chillers and Heat Pumps and the Sales & Marketing Departments.
In addition to the large liquid Chillers and Heat Pumps production plant, Rivignano Teor (UD) (Italy) is also home to the newly established Climatic Chamber that allows the company to perform witness tests in the presence of customers to prove the perfect functionality and performance of its units in a huge variety of operating conditions. This allows a wide array of tests to be carried out in an outdoor air temperature of -20°C to + 50°C.
The Packaged Rooftop and Close Control Units manufacturing plant is located in Ronchis (UD) (Italy).
In Biatorbágy, Hungary there is a manufacturing plant for Air Handling Units, Fan Coil Units and Air Handling Terminal Units.
The International markets are supported by 4 sales offices based in Italy, Russia, United Arab Emirates and Malaysia and a network of over 70 worldwide distributors.
On the Italian market, the Group, with its network of 30 Dealerships and 45 Technical Service Centres, supports the customer in every pre-and post-sales phase: from the customised study of installations to the selection of the best units to meet specific requirements, from support during start-up to technical post-sales assistance.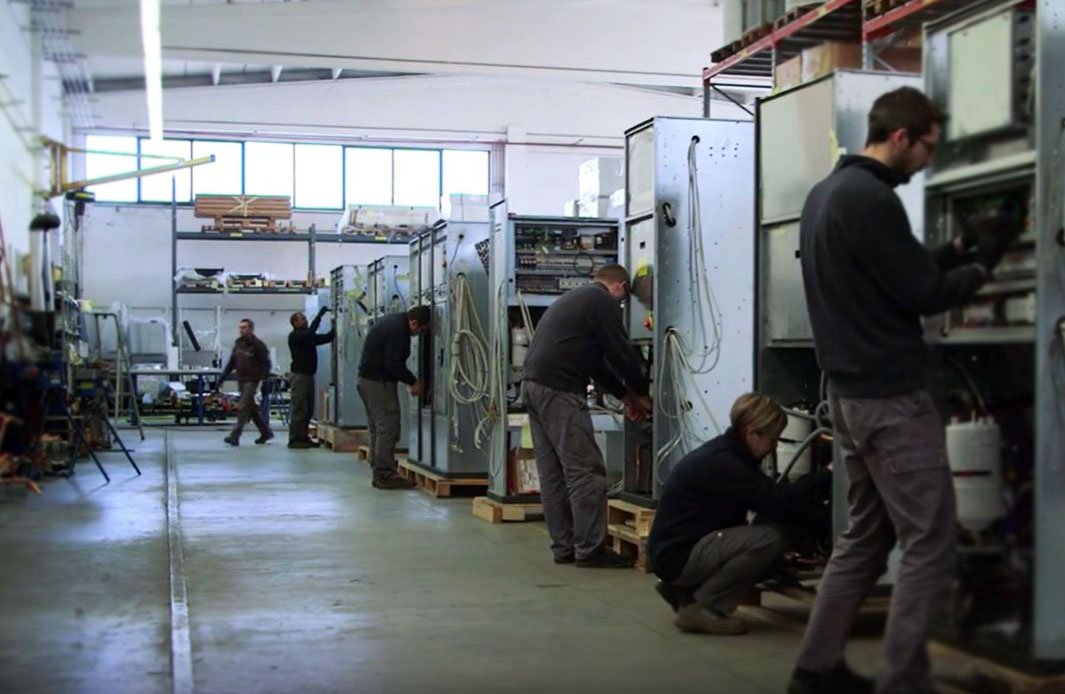 TOTAL CLIMATE CONTROL
LONGER SERVER SERVICE LIFE
MONTAIR units are designed especially for rooms with a specific high thermal load and ensure excellent thermal–hygrometric levels.
CONSTANT TEMPERATURE. The use of Inverter* compressors prevents fluctuations in temperature, which could otherwise be damaging to servers.
LOW HUMIDITY, HIGH SHR. Extremely high Sensible Capacity levels, up to 100% SHR (Sensible Heat Ratio): accurate dehumidification prevents the risk of condensation and corrosion on the racks, while maintaining levels to prevent static loads, harmful to data security.
Dedicated versions equipped with humidifying and/or dehumidifying systems maintain the optimal level of humidity in every situation.
FILTERING SYSTEM, CLEAN AIR. The air is kept free of impurities that can damage racks thanks to dedicated filtering systems in latex and high filtration fiber (standard M5, accessory F7-EU7).
LONG-TERM RELIABILITY
SHUT-DOWN PREVENTION: DATA IS PROTECTED
MONTAIR precision air conditioners, designed to operate 24/7, 365 days a year, feature components specifically designed for continuous use (heavy duty) and maximum security. The materials are among the most resistant on the market, such as the paints and panels with thermo-acoustic and fireproof insulation that the unit structure is made of.
Specific models are designed according to an internal redundancy system to ensure system operation even in the case of unit failure, such as the dual fluid and dual coil models, or the double cooling circuit versions.
The LOGICA rear cooling door system is a patented system against hydraulic leaks to guarantee maximum data protection.
The production plant is closely monitored throughout every phase of production, up to final testing of the units, in terms of quality and performance.
In the after-sales phase, the extensive international network of Service Assistance Centers provide, on request, on-site start-up and rapid response complete service assistance, throughout unit service life.
MAXIMUM ENERGY EFFICIENCY ALL YEAR ROUND
REDUCED OPERATING COSTS
In Data Centre Systems, a considerable part of total consumption is due to air conditioning on year-round operation. Accordingly, it is essential to design a cooling system that minimises energy consumption.
INVERTER TECHNOLOGY. The high-efficiency line for medium-density systems with Scroll Inverter compressors and EC Inverter Plug-Fans features up to 50% less consumption at partial loads in comparison to traditional solutions.
LOGICA SYSTEM. The integrated cooling system for high density systems that offers up to 93% in energy saving in comparison to traditional solutions.
FREE-COOLING. Dedicated Montair cooling systems are designed with the Indirect Free-Cooling logic, others can also be connected to external liquid Chillers equipped with Free-Cooling technology.