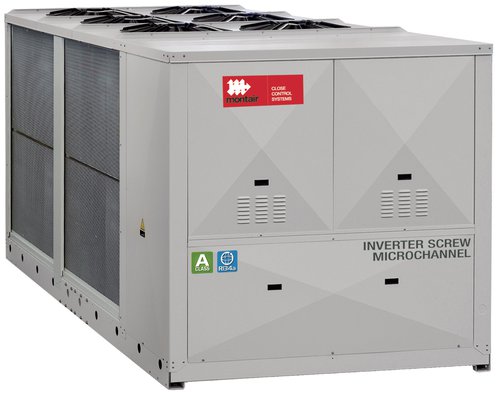 CRE-EY 2280÷21290
A CLASS energy efficiency aircooled liquid Chillers with axial fans, (Inverter) Screw compressors, Microchannel condensing coils and shell and tube exchanger



The CRE-EY 2280÷21290 units in A CLASS energy efficiency, with R410A refrigerant, are specifically designed for big size data centres. They have high EER values due to reduced electrical absorption and a high efficiency of the compressor-exchanger combination.
The Microchannel condensing coils, the mono-Screw compressors with satellite and the new design optimized in every detail ensure the reach of the highest efficiency. Furthermore, accessories as the Inverter control on Screw compressors, on circulating pumps and EC Inverter on fans are also available for getting the highest efficiency at part load. The super silenced version, obtained through acoustic insulation on compressors and wider exchangers, is particularly suitable for installations where extremely quiet operation are essential for the ideal execution of the system.
Units are featured as standard with an electronic proportional device that ensures efficient continuous functioning of the unit with outside air temperature down to –20 °C.
CRE-EJ 2280÷21290
On request, units can be supplied with R513A refrigerant.
Versions
CRE-EY - Cooling only
CRE-EY/SSL - Super silenced cooling only
Features
Structure with supporting frame, made of galvanised sheet metal with additional protection provided by polyester powder coating.
Screw compressors with built-in oil separator, suction filter, crankcase heater, oil sight glass, thermal protection and stepless capacity steps.
Axial fans directly coupled to an electric motor with external rotor.
Condenser made of aluminium MICROCHANNEL coils.
Shell and tube evaporator with two independent circuits on the refrigerant side and one on the water side, complete with water differential pressure switch.
Cooling circuit shut-off valves on discharge and liquid line.
Electronic expansion valve.
Electronic high and low pressure gauges.
R134a refrigerant. On request R513A refrigerant.
Electrical board includes: main switch with door safety interlock, fuses, thermal protection relays for compressors and thermocontacts for fans.
Condensing Control is included: electronic proportional device that ensures efficient and continuous functioning of the unit with outside air temperature down to –20 °C. It also allows to reduce the sound level especially at night. It consists of a fans speed controller with continuous speed regulation, high and low pressure transducers on cooling circuit and an electrical heater on electrical board.
Microprocessor control and regulation system.