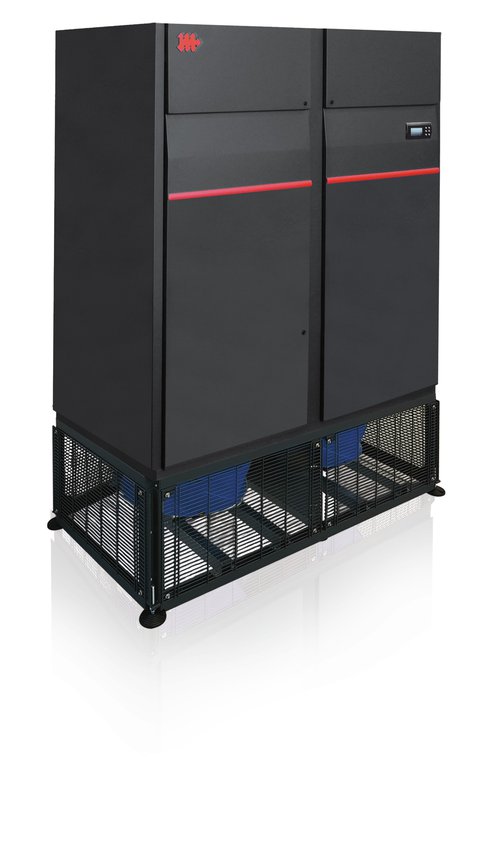 DOP
CHILLED WATER DUAL COIL UNDERFLOOR UNITS WITH EC INVERTER PLUG-FANS

New generation Dual Coil Chilled Water units characterized by the combination of two parts: the upper cooling module which includes an high performing coil, filters, electrical box, modulating valve and the newest EC Inverter Plug-Fans are housed in a dedicated module optimized for minimum air pressure drops and reduced electrical absorbed power. The fan module, normally configured "fully open" for installation under the raised floor, can be provided with panels for installation above the raised floor.
Dual Coil units with two independent Chilled Water cooling circuits. The circuits are connected with two watercooled or aircooled liquid Chillers, also with Free-cooling technology.
Unit supervision is developed by means of Modbus RTU protocol over RS485
serial interface as standard configuration. Other communication protocols and
interfaces are available as option.
These units are designed to operate with high water temperature (14/20 °C) despite being possible, with a dedicated option, to operate with conventional water temperature (7/12 °C).
Versions
DOPU/C - Underfloor air discharge
DOPU/U - Underfloor air discharge
DOPU/E - Underfloor air discharge
DOPU/D - Underfloor air discharge
Power range
88.0-205 kW
25.0-58.0 Ton