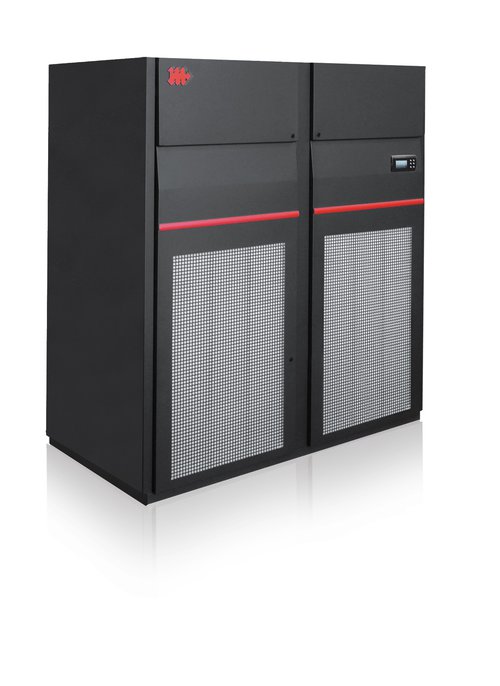 TIP
AIRCOOLED DIRECT EXPANSION DUAL FLUID UNITS WITH INVERTER SCROLL COMPRESSORS AND EC INVERTER PLUG-FANS



High efficiency aircooled direct expansion Dual Fluid units with double circuit: one aircooled direct expansion circuit and one chilled water circuit. The circuits are separated, with non-simultaneous start-up, for back-up operation. The Inverter Scroll compressor and the EC Inverter Plug-Fans vary their delivered power and absorbed power depending on the real requested thermal load. Up to 88% difference between minimum and maximum absorbed power is reachable.
The TIP range is equipped with EC Inverter Plug-Fans; High Head fans are available as accessories.
The range features electronic expansion valve already included.
The TIP range is available in two air delivery configurations: TIPT with upflow and TIPB with downflow.
Unit supervision is developed by means of Modbus RTU protocol over RS485
serial interface as standard configuration. Other communication protocols and
interfaces are available as option.
The units are suitable for operation at a high outdoor air temperature (up to 52 C) with the correct combination with the XT remote condensers.
Versions
TIPT/C - Top air discharge and frontal intake
TIPT/U - Top air discharge and frontal intake
TIPT/E - Top air discharge and frontal intake
TIPT/D - Top air discharge and frontal intake
TIPB/C - Bottom air discharge and upper intake
TIPB/U - Bottom air discharge and upper intake
TIPB/E - Bottom air discharge and upper intake
TIPB/D - Bottom air discharge and upper intake