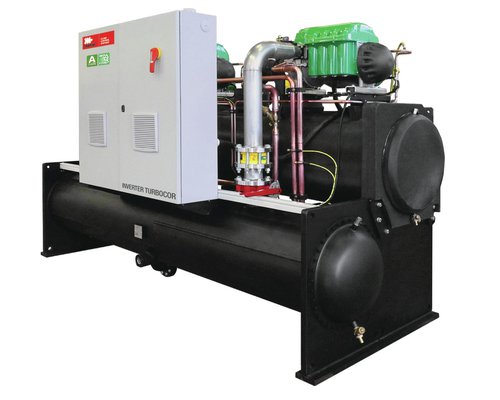 CRW-TRH/DR 1340/1÷62120/1
A CLASS ENERGY EFFICIENCY WATERCOOLED LIQUID CHILLERS WITH TURBOCOR (MAGNETIC LEVITATION) COMPRESSORS AND FLOODED SHELL AND TUBE EXCHANGERS FOR DRY-COOLER OPERATION

The innovative CRW-TRH/DR 1340/1÷62120/1 units for Dry-Cooler operation, featuring A CLASS energy efficiency and HFO-R1234ze refrigerant, are designed to provide an effective solution to highly selective system needs. The latest generation refrigerant HFO-R1234ze, with GWP<1 (Global warming Potential), is the most environmentally sustainable refrigerant on the market, and meets the strictest international environmental regulations. Furthermore, thanks to Turbocor compressors, the units perform with top efficiency at partial loads, low inrush currents, an excellent silent functioning and reduced weight.
Using TURBOCOR dynamic partial-load oil-free magnetic levitation compressors, managed by the TURBOSOFT self-adaptive electronic control and flooded shell and tube evaporators, provide high energy performance, with unbeatable SEPR/ESEER/IPLV values, with minimum water content, and an excellent silent functioning. Compared to traditional Screw compressor units, CRW-TRH/DR 1340/1÷62120/1 units have low operational costs during their entire use, with a savings that can even reach 50%. Besides, the units are equipped with the WEB MONITORING system, for remotely managing and monitoring the units by means of GPRS/EDGE/3G/TCP-IP communication protocol. The users enabled to use this service can, by a dedicated Web page, access Monitoring, Management and Statistics activities.
Versions
CRW-TRH/DR - Cooling only for Dry-Cooler
Features
Structure with supporting frame, made of galvanised sheet metal with additional protection provided by polyester powder coating.
Semi-hermetic centrifugal compressors with dual Turbocor turbine, oil free, magnetic rising rotor, thermal protection, continuous capacity adjustment system thanks to built-in INVERTER, automatic anti-cavitation system. The power circuit of the compressor is fitted with a set of electrolytic condensers to control the rising in the event of a power failure, reactor for the power factor correction, EMI filter for electromagnetic compatibility.
Shell and tube type condenser, with easily removable cast iron heads to enable access for maintenance operations.
High efficiency flooded shell and tube type evaporator, with one circuit on the refrigerant side and one on the water side, complete with water differential pressure switch.
Cooling circuit shut-off valves on suction, discharge and liquid line.
Electronic expansion valve.
Electronic high and low pressure gauges.
HFO-R1234ze refrigerant.
Electrical board includes: main on-off switch with door lock, fuses, electronic/digital overload device to protect the compressors, interface relay and terminals for external connections.
TURBOSOFT control and regulation system, equipped with RS485 serial interface, can be supplied with an optional Web Monitoring device for remote monitoring via GPRS/EDGE/3G/TCP-IP network.